Friday, April 20, 2012
12:01 AM
|
Posted by Life on Manitoulin
|
Edit Post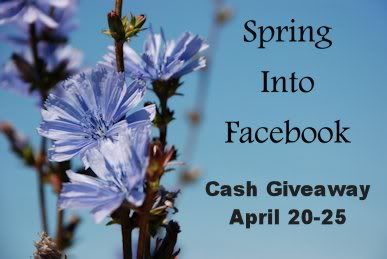 S
pring is in the air! Spring makes me
very
happy. The warmer weather, the sunshine, blue skies, birds chirping, flowers blooming...It's a natural high. I get really excited to start my garden, wear sandals, and maybe buy something new to wear that really makes me feel like it's Springtime!
Every year, I dream of getting a new patio set or finishing our deck. Then I think, "Oh, there's always next year." There always seems to be other things that we need more than a new patio set, deck, or BBQ!
If this sounds familiar, why not enter a fabulous Spring Into Facebook $50 PayPal Cash #Giveaway? Who doesn't want a bit of extra $? :)
I am happy to welcome you to the Spring Into Facebook Cash Giveaway!
33 blogs have gotten together to give you the chance to win $50 in PayPal Cash! Anyone worldwide who is 18+ and has a PayPal account is eligible to win.
Please take some time to read the Terms and Conditions at the end of the Rafflecopter Widget before entering. Entering the giveaway means you accept them. We made it very easy for you, only THREE types of entries!
If you aren't familiar with Rafflecopter, please let the widget fully load and then sign in with Facebook or your name and email. Click "DO IT" to find out more information on what you need to do. Once you've completed the task, add any extra information it asks for and click "ENTER" Only the facebook likes are mandatory, but the other two will give you more chances to win. If you have any questions or issues with entering or liking the pages, please email the host Kathleen at callista83 AT cogeco DOT ca
This Giveaway Is Brought To You By: Callista's Ramblings, Biannual Blogathon Bash, SMS Nonfiction Book Reviews, The Mystic Kitchen,
Geek With Style
, Mom-ology, My Charmed Mom, Of Limes and Lemons, Little Miss Kate, The Kids Are Grown, Now What?, Heart N Soul Cooking, Couponer's Corner, Jenny at DapperHouse, Cheap Junkie, The Couponing Teacher, One Mom's Moxie, Sweeping the USA, Tethered Mommy, Freesocial2011, The Spring Mount 6 Pack, Front Porch Reviews,Tidbits From a Mom, Lisa Reviews, Multi-Testing Mommy, Suburban Style Challenge, To Sew With Love,Giveaway Bandit, WeAim2Pleez, Lovely Legs, MK Designs, Farm News for Kids, Life on Manitoulin and Libby's Library.
a Rafflecopter giveaway
About the Blog Author
City girl moves to the country, falls in love, and marries a farmer. She tries to incorporate her city ways with her new country lifestyle and blogs to keep in touch with friends, family & students who live far, far away :) Can this city girl go country? Watch as she learns all sorts of exciting things about life on the farm and in a small rural community. *UPDATE* We are now parents! Our baby girl was born on Nov. 11, 2008 (at 28 weeks gestation- 12 weeks premature, but she's quite the trooper)!!!
Contact Me

Let's Connect
Also...