Tuesday, January 25, 2011
11:27 PM
|
Posted by Life on Manitoulin
|
Edit Post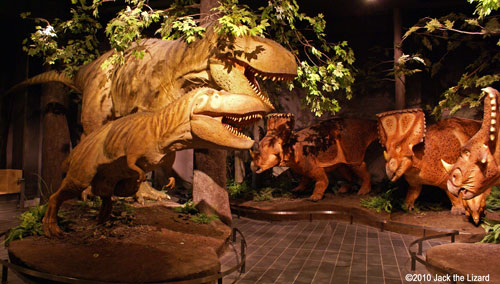 Little One
absolutely loves dinosaurs. She loves Dinosaur Train and Harry and his Bucket Full of Dinosaurs. If you ask her what sound a dinosaur makes, she'll let out a big "RAWWWWWRRRRR!"
She loves dinosaurs!
At least I thought she did!
Since we were in Ottawa and since we were only a few blocks from the
Museum of Nature
, I thought it would be a fantastic idea to take Little One on an outing that was fun and educational. Yes, I realize she is only 2 years old. Still, I thought it would be a fabulous idea! What fun!
She HATED the dinosaur exhibit. Hated it! She started crying and screaming, "Out! Out! OUT!!!!" The poor thing was traumatized!
Me: It's okay, honey! They're not real.
Little One: No, no, no, no, nooooo! (crying)
Me: But you LOVE dinosaurs! Dinosaur Train! Harry and his Bucket Full of Dinosaurs...
LO: Nooooo. (whimpering)
Me: Okay, okay...
LO: Out! Out! Out! Out! OUTTTTT! Wahhhhhhhhh!
What I don't get is that she LOVED the bison, caribou, moose, grizzly bears, pronghorns, and other large mammal displays. She didn't want to leave the museum! *sigh*
Photo from here.
About the Blog Author
City girl moves to the country, falls in love, and marries a farmer. She tries to incorporate her city ways with her new country lifestyle and blogs to keep in touch with friends, family & students who live far, far away :) Can this city girl go country? Watch as she learns all sorts of exciting things about life on the farm and in a small rural community. *UPDATE* We are now parents! Our baby girl was born on Nov. 11, 2008 (at 28 weeks gestation- 12 weeks premature, but she's quite the trooper)!!!
Contact Me

Let's Connect
Also...